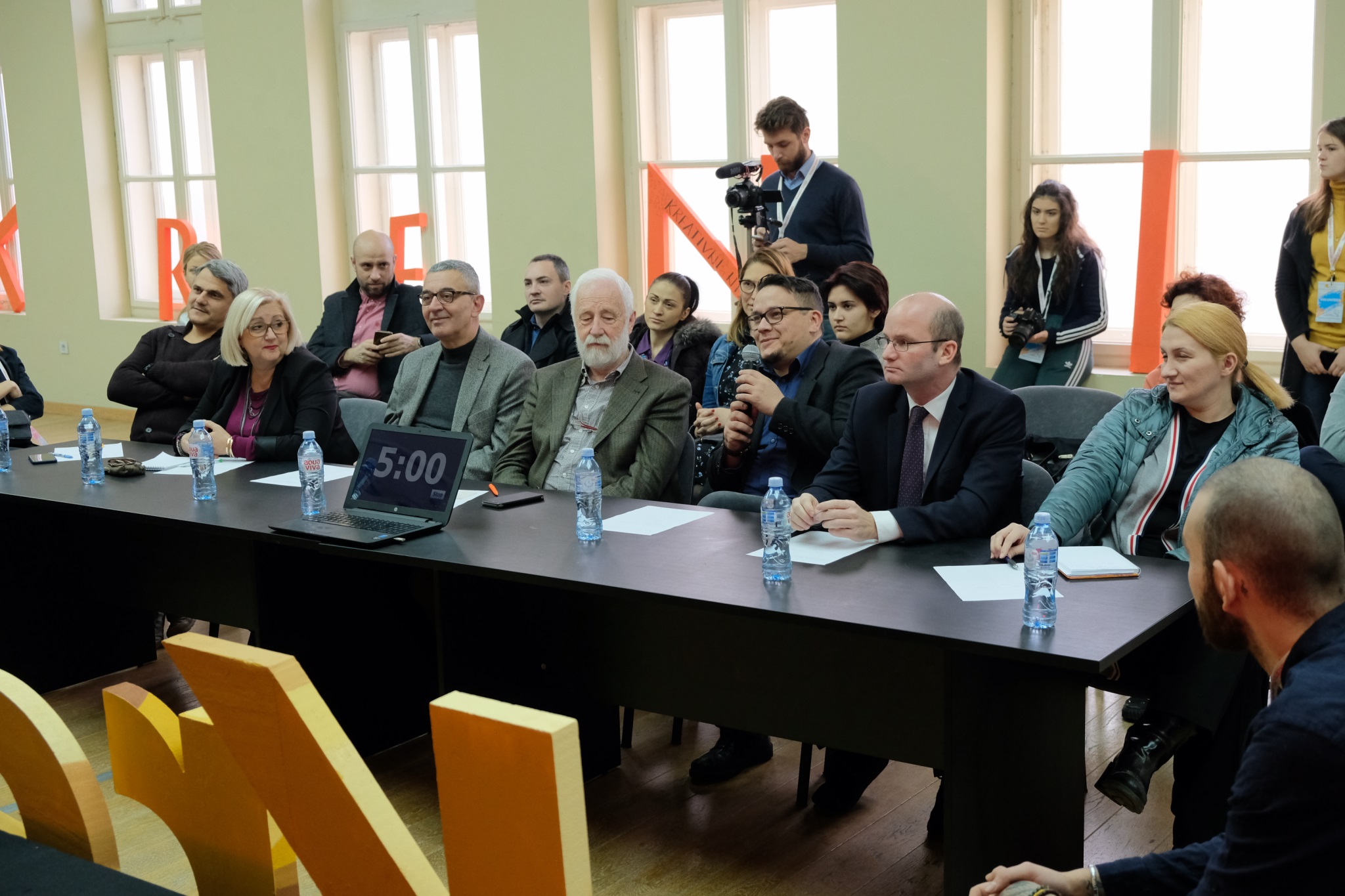 This year's KreNI conference has come to an end. After four amazing days, organizers, speakers, mentors and participants are ready for the grand finale and winner announcement. Buckle up, 5th day has come!
New knowledge, great experience, team work and creativity are terms that marked KreNI4 conference, as well as our main topic for this year – cultural heritage. By the number of people we had this year, and by the number of smiles we saw, we can say that KreNI4 reached its goal!
None of this would have been possible without our dedicated oranisers (Young Ambassadors) and our partners and sponsors, who had noticed an impact this conference has on people. This way, we want to say thank you to Austrian cultural forum, The city of Nis, Erste bank, Delegation of EU in Serbia, EU info point, United States Embassy Serbia, French Institute in Serbia, Italian cultural institute, EUNIC Serbia, Ministry of culture and information, #EuropeForCulture and Office for local economic development and projects.
Back to the fifth and last day of KreNI4 – here is the program of the day:
From 10am to 10:20am were welcome speeches, where our guests could also hear about the presentations and rules for picking the winner.
After that, to 11:10am, each KreNI4 team had their 5 minutes on the stage. Our judges had a pretty hard job – to decide a winner. They also had opportunity to ask every team, after each presentation, something about their plan or project.
First team's task was Digitalization of the Fortress and their solution was a virtual tour app. "Take a walk with me" would say app's main character, Fairy Naissa, that team actually designed in a computer program. Application would be available in serbian, english, mandarin, bulgarian, german and spanish language, and it would tell its users stories about historical sites and legends of the Fortress. "We would make our people proud of their history. We choose not to be forgotten" this team said.
"Barutana 1" was the second team of the day, whose idea is to transform historic military facility into a place of culture. Barutana would have exhibition corridor, QR corridor with virtual reality, and also, multifunctional inner space. Beside serbian and english language which would be available, this team wants to make experience in Barutana easier and better for blind people and people with damaged eyesight, by using Braille letters.
Next team was "#FortArt", whose idea is to place token machines on three locations in the Fortress and also quite interesting looking benches on the green sourface. They would collab with University of Art and High school of art, whose students would be involved in designing and making those benches. That would be great and unique experience for our citizens and tourists, as they could also get souvenirs from Nis, in exchange for tokens.
Team "Via Manus" had an idea to make a traditional craft fair, where tradition meets modern. On the specified location in the Nis Fortress, there would be craftman's houses, made of refabricated materials, where craftmans such as clocksmiths and blacksmiths would sell their work. They already have 9 crafts planned, and at the end of the fair, there would be a traditional serbian restaurant – kafana.
Fifth team's name is "Paliloola", and their idea was to moderate and improve the municipality of Palilula in Nis, by making a smartphone app. That app would have a map of touristic spots in this municipality, as well as three different routes: historic, cultural and hang out (social) route. At the end of every route there would be an award for the user. That could be a ticket, for exaple, for Nisville festival, and that way, they would improve tourism not just for Palilula, but for other places and events in our city.
Ideas presentations were followed by panel discussion "European year of cultural heritage"
During the conference, a panel on the topic "European Year of Cultural Heritage" was held with the representatives of EUNIC clusters of EU cultural centers, Johannes Iršik, Director of the Austrian Cultural Center and Marion Vio, Director of the French Institute in Niš. The panel was moderated by Branko Krsmanovic from the Young Ambassadors. They talked about the importance of cultural heritage for local development and good experiences with Austria and France in preserving cultural heritage.
Voting results came after panel and we learned who was the winner of the 4th KreNI Conference by the decision of the jury composed of: Johanes Irsik, Director of the Austrian Cultural Forum, Uroš Parlić, Director of Tourist Organization Niš, Stela Jovanović from the Canal for Local Economic Development and Projects, Bojana Pejčić from the Youth Canal, Hadzi Ivan Redi architect and Djordje Stošić from the Institute for the Protection of Cultural Monuments.
The winning team had a project "Digitalisation of Nis Fortres", and they designed a virtual guide through the Fortress.
This was all in this year's KreNI conference. We are very pleased to go further and prepare for the next jubilee conference. Thank you for being with us, we hope that you enjoyed it. Until next year!