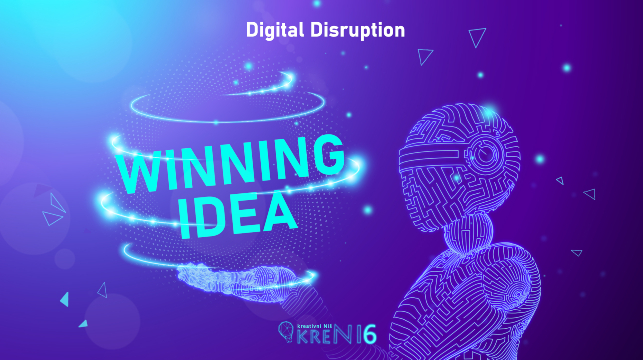 We are sure that you have all been looking forward to that moment where you will hear which ideas will change our city in the technological sense. Because of that, the last day of this year's KreNI conference is reserved for presenting the final ideas of our participants.
Five teams competed and presented in the following fields:
1. Traffic - Team EcoWheels
2. Environment - Team CleaNish
3. Culture - Team Old Lore
4. Health - Team The Book Club
5. Education - TeamHealth Care
In the following lines, find out about what the teams were working on:
1. EcoWheels - a safe storage place for bicycles connected by an application
2. CleaNish - a game that raises awareness of how to treat garbage
3. Old Lore - an application that presents how the sights of the city of Nis have changed over time
4. The Book Club - a platform that would make it easier for people to exchange books in their city
5. Health Care - a reminder to patients to take therapy and help for the doctors in the form of an application
These ideas were evaluated by an expert jury consisting of:
. N.E. Yahel Vilan, Ambassador of Israel
. Biljana Daki? ?or?evi?, Director of Trag Foundation
. Olivera Kosti?, Project Manager of EU Pro Project
. Joachim Waern, Deputy Head of Mission of the Embassy of Sweden
While we have been waiting for the final decision of the jury, we devoted time to a panel discussion about the benefits of disruptive technologies. Check it out here (link).
Although all of the teams did a great job in the previous days, only 1 team could win. According to the decision of the jury, it is a team that was dealing with the topic of the environment - CleaNish. The winning team dealt with the topic of pollution of the city of Nis and the river Nisava. They found the solution to the problem in designing a game that would encourage people to change their thinking about how to treat garbage. By collecting CleanCoin, you have the opportunity to exchange it for money that would be donated to charity. Check out the full conference video with the winner announcement.
The team of Young Ambassadors led by President Snezana Andric wants to congratulate all participants, and especially the winning team! We would also like to thank all the guests who made it possible for the conference to be at the highest level in this version as well. We hope you enjoyed it and see you at KreNI 7 next year, hopefully in better conditions!