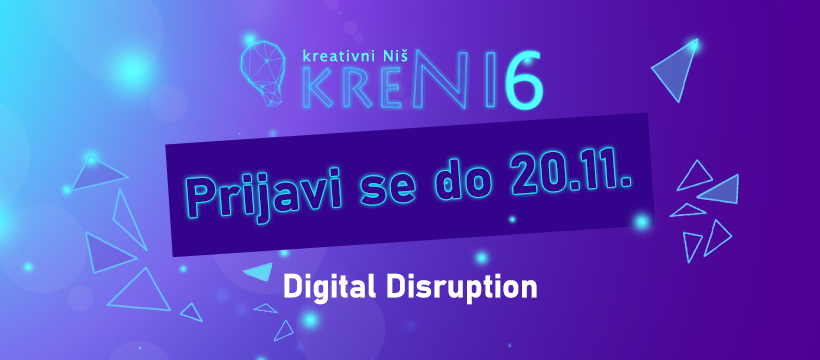 Is your idea a future innovation?
We are looking for creative, innovative young people, who are studying or having some experience in ICT, design, advertisement, architecture, management.
#KreNI6 is coming soon and we are opening a call for enthusiastic and brave young people who want to shape the digital future of Niš.
#KreNI6 participants will work with international experts, gain new knowledge and experience, share their ideas with experienced mentors and develop solutions for digital development of our city.
Want to learn more about "digital disruption" and the positive changes that disruptive technologies are having on society? You have experience or want to find out more about:
Robotics
Virtual design
VR/AR
Artificial Intelligence
Gaming
Brand Communication
Choose your topic and fill the application till 20 November latest! Here is the application form
#KreNI6 speakers are coming from Sweden, Austria, France, Italy, Portugal, Israel, Slovenia, Romania, Serbia and they are looking forward to working with you. Don't miss the opportunity to be a part of the better solutions for our society, a part of the digital future of Niš! More info www.kreni.org