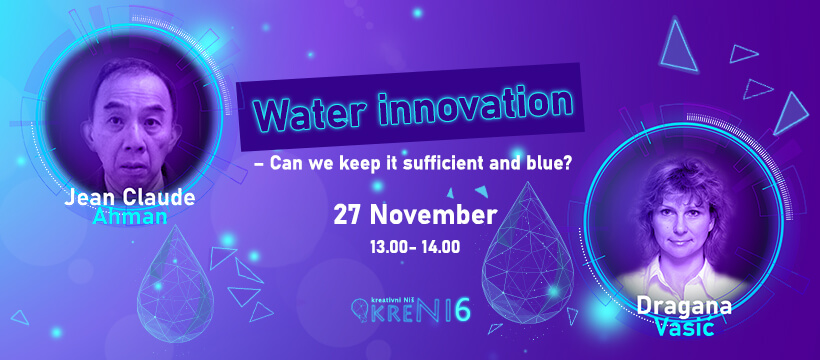 We all need access to clean water to survive, live and prosper. Water is an essential component of our economies.  Considering our societies dependence on natures welfare and that there is only one water, wastewater reuse is becoming increasingly important. In order to create a sustainable and efficient society, it is necessary to change our attitude towards natural resources and to move to a circular economy in a world of depleted resources. The good news and a chance is innovation. The latest generation of wastewater innovations has the potential to change the way we manage, pay for and profit from wastewater treatment. 
Wastewater is a largely untapped resource, with the potential to have wide-ranging impact in areas such as energy production, agriculture and industrial development.
Topics to be covered within the webinar:
1. Environmental Challenges in Serbia and how innovations can contribute? 
2. 100 years of Innovation in dealing with Wastewater 
3. Future Blue Planet – Can we keep it blue?

Speakers and short biographies:
Additional information:
The major environmental project on wastewater collection and treatment plant is preparing in Niš with the support of Sweden and the EU, and in partnership with the City Of Niš. This is one of main ongoing projects related to improving of environmental infrastructure in Serbia realizing within the Priority Environmental Infrastructure for Development - PEID.
The main aim of PEID is to contribute to preparation of projects to be ready for financing and implementation within the environmental sector. PEID is funded by the Swedish Government within the SIDA framework for foreign assistance. It is managed by the Embassy of Sweden in Serbia and with the Ministry of Environmental Protection of the Republic of Serbia (MEP). 
Niš Wastewater Collection and Treatment Project is identified as the priority, and its implementation, including preparatory and design phases, tendering, construction and supervision activities, shall contribute to building up the capacity and capability of local authorities and central institutions.