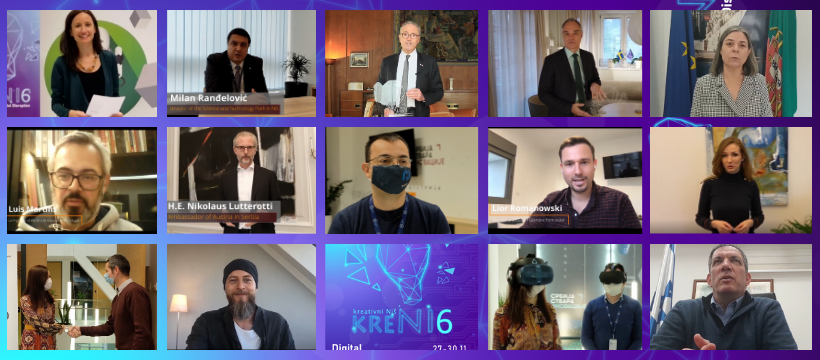 Kreni Talks #1 leading with high speed to digital disruption
With a great excitement, wonderful guests and participants, #KreNI 6 was officially open! In a manner of innovations, we stationed our hosts in Science and Technology Park in Nis, who then joined the conference virtually, together with other guests.
The KreNi conference was opened by Snežana Andrić, the President of the Young Ambassadors, who organized the conference 6 years in a row, bringing the most influential and current topics to this part of the state. Snežana said that we all have the same mission here which is to help Niš build its digital future, and that is why this year's KreNI will bring 20 speakers from 11 countries around the world.
'We want to build a digital future of Niš. Drive of a change towards that is young people. This is our modest contribution to make the city digital and innovative', Snežana shared.
The eye of the camera moved to another room in Science and Technology Park, where Milan Ranđelović, the Director of the Science and Technology Park shared with us more about the park itself and how they are more than happy to be this year's hosts and hopefully next one's too.
One of the welcome speeches was from the H.E. Jean-Louis Falconi, Ambassador of France in Serbia which was last year's host country of KreNI. As the KreNI trophy had to be shared to a new host country H.E. Mr. Falconi expressed thankfulness for all prior enrollments and shared that in the past per his experience, fantastic ideas were created during our conference. He greeted and introduced this year's host country and its Ambassador – Sweden and H.E. Jan Lundin.
H.E. Lundin welcomed all of the participants and said that he believes that Niš and Serbia are on a great way to become strong innovators and this conference is a great start for it.
After the official conference announced, the first program KreNi Talks - Digital Disruption #1 had started. The first keynote speaker Luis Martins was introduced by H.E. Victoria Pane.. Luis did his KreNi talk about VR/AR as he is co-president of its Association in Portugal.
The conference moved back to Niš and Snežana had a talk with Vladan Trkulja, CEO of SanaTec7 company which is working on a Virtual Architect application right now. From Niš, we could hear about one more application called Aid Line from Đorđe Mitić, CEO of Naissus Technology.
The next speaker was from our host country – Elena Sjodin, who is CEO of Robotmind company. Elena talked about robotics and their usage in real life.
'Digitalisation is not a competitive advantage, it's a necessity', Elena said.
Ambassador of Israel in Serbia, Yahel Vilan introduced our next speaker, coming from Israel – Lior Romanowski. He is a founder of a company called Spartans in Israel and he presented us something about virtual intelligence, learning and intelligence in general.
After Lior's presentation we came back to Niš where we talked with professor Dejan Ćirić who is the general director of the company Insonno – Serbian start up company working directly from Science and Technology Park in Niš.
Our next presenter was Marcus Petzl from Austria who was warmly introduced by Nicolaus Lutterotti, Ambassador of Austria in Serbia. Marcus is founder of the company Disruptive - beyond your strategy and he made the presentation about Disruptive thinking.
The first day of KreNi successfully finished, and despite the circumstances, we are pleased to organize it in a new environment. All special thanks is going to Embassy of Sweden, Swedish Institute, NTP Nis, Italian Institute, French Institute, Embassy of France, Austrian Culture Forum, Embassy of Austria, Embassy of Portugal, Embassy of Israel, Erste Bank, OTP Bank and Continental Serbia, that recognize the potential of the conference throughout years.
*****
What was next were 2 webinars:
"Intellectual property in disruptive technologies" – Gogo Rafajlovski from North Macedonia
"Water innovation – Can we keep it sufficient and blue?" – Dragana Vasić from Serbia
Gogo helped us understand the importance of protection of intellectual property for startups and how it can help them create additional income.
Last presentation was from Jean Claude AhMan and Dragana Vasic on the topic of water innovation with a focus on wastewater and sludge treatment.
The other part of the day was reserved for sessions on different topics led by various professional mentors:
Virtual design
VR
Gaming
Robotics
Stay tuned and thanks for being part of this first day of the conference!
-Young Ambassadors