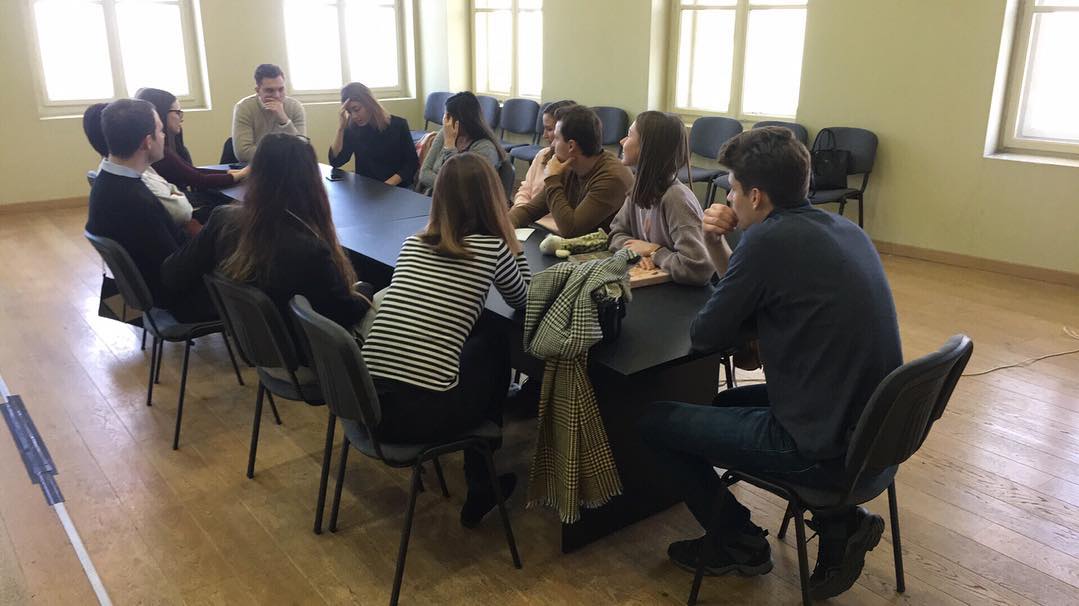 After a big opening and a great day at Oficirski dom with our speakers, KreNI4 participants were ready for a round 2 – second day of conference, which was reserved for workshops.
Same place, same time, same terrific speakers and the day has begun. From 10am to 12pm, our participants had a chance to enjoy interactive classes with Magdalena Lataillade, Daniel Bernhardt and Adam Frampton. Given that the participants selected one speaker at the time of the application, there were three groups in three different rooms.
In the first room, second day for KreNI4 participants began with an interesting talk with our architect from the USA – Adam. His idea for the workshop was something like round table – participants were sitting around the table with Adam, discussing the architecture of our city of Nis. They were expressing their opinions about the streets, buildings, monuments and memorials of the city. Conversation went on and, as they had learned new things from Adam, so had he learned a lot about his host city.
Our manager from France, Magdalena had occupied second room at Oficirski dom for her design workshop. Her idea was to teach her "students" something about team work and cooperation, with a quite interesting thing – marshmallow challenge. There were four teams who had 18 minutes to build a tower out of spaghetti, duct tape and rope, with a marshmallow on the top. Only one team had managed to work it out and their tower was standing perfect, while the rest of the teams had lots of laugh trying to hold their spaghetti towers together – they said it was so much fun! Magdalena said this challenge forces people to work quick, and the hard part was that team members haven't really known each other. Afterwards, teams were watching a short documentary about the marshmallow challenge and for sure learned the importance of the team work.
Third workshop for this day was with Daniel, producer from Graz, Austria. He held a presentation about how video journalism affects society. "Stories are everywhere", Daniel said, as he was teaching KreNI4 participants interesting things about vlogging: how they should work with videos, when should they post them, on which platform etc. After an interesting and interactive presentation, his students were watching videos about vlogging, and they discussed elements of a good story for a video.
At the end, second day was successful and really interesting both for participants and speakers. We are already looking forward to another great day at KreNI4 conference and waiting in anticipation for new experiences. Maybe some people don't work on weekends, but we sure do – we work on ourselves! Stay tuned, day 3 is already loading!