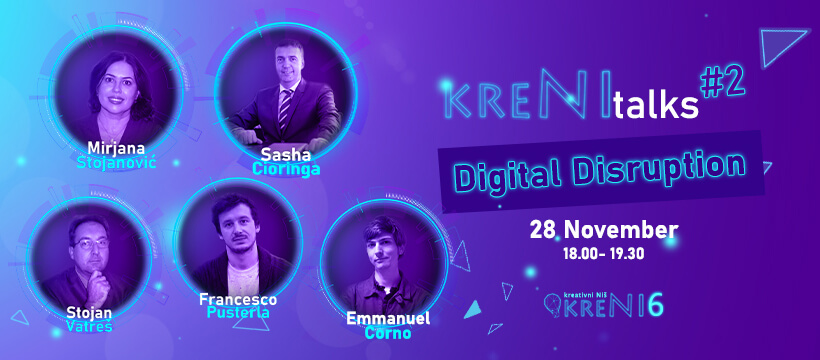 Are you interested in learning more about Digital Disruption? Our public event Kreni Talks #2 is bringing more international speakers to share their knowledge on various topics that will bring digital disruption closer to you and help you find your niche.
The second part of the KreNI talks program, held on 28th of November at 6 PM, is dedicated to the changes that technologies such as virtual reality, machine learning, AI, data science and 5G bring to the traditional understanding of the economy and society.
We will talk about experiences from the gaming industry in France, virtual design in Italy, the development of smart cars, the 5G network in telecommunications and the digital transformation of the banking system.
These topics will be covered by #KreNI6 lecturers:
- Francesco Pusterla, BIM Coordinator in AFRY from Italy
- Emanuel Corno, game designer from France
- Sasha Cioringa, General Manager of Continental Automotive Serbia
- Mirjana Stojanovi?, 5G network expert in Ericsson Serbia
- Stojan Vatres, Digital transformation expert at Erste Bank
- Ljubisa Egelja, director of marketing at OTP bank
- Aleksandar Razmovski, Senior Business Intelligence Analyst at Seavus
And this is not the end! Join us on 30th of November at 10 AM, where all our KreNI participants working on innovative ideas will present their solutions and closing Panel 'Digital disruption as a force for good' will be held. Start is at 10 AM and we can't wait to hear what will be the best ideas we will be working on in the next couple of months in making City of Nis technology advanced city!